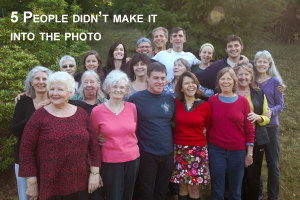 We did it!… Again! 24 bright-eyed passionate people all came together in one beautiful place to practice, stumble, slam-dunk and bathe in the inspiration that we all created together. We are taking this post as a celebration of the 2014 Blackbelt Communication Skills, NVC & Social Change Retreat – our 2nd annual transformative event that was held at Whidbey Institute. The four-day and four-night retreat wove together Nonviolent Communication practices, ideas and theories, compassionate games and play, along with walks in the woods, and explorations of how to continue growing and learning while making the biggest positive difference we can.
Pros:
Deep dive into the soul-nourishing bubble bath that is the practice and theory of compassion, Nonviolent Communication and social change
Incredible meals made from organic local ingredients and created with grace by Executive Chef Christyn Johnson and her team of kitchen angels. (You think we are kidding about the angel part, don't you?)
New connections made:
– between people at the retreat
– stretching far beyond the bounds of the event including phone calls made to loved ones
Sunny for 4 days straight in October in Washington State with misty mornings and incredible sunsets
Empathy for self and others increased in every participant and in the world
Sessions included: How to Stay in Tough Conversations, Role Plays that Rock Your World, Embodying Compassion through Movement, The No-Fault Zone Game (NVC-based board game by one of our training team, Sura Hart), Restorative Circles, Saturday Night Dance Party.
Participants walked away with great clarity, resolve and tools to create an epic life for themselves while they contribute to others.
Cons:
Participants missed out on a thousand things that happened during those 4 days & nights
Gardening, lawn mowing and other productive outdoor activities were neglected by participants
Countless hours of lost Facebooking, Twittering, etc
No zombie apocalypse paintball competitions took place in the dense forest of Whidbey Institute
Some reflections from our new friends
[note note_color="#fdfaec"]
"Yeah, there were classes and there were tools and nudges. But mostly there was human beings meeting in the vulnerability, in the love that we all want to be and that we all are."
~ Caryn D.
Seattle, Washington
"I've done more smiling at this conference than I've done in months…
What I've been surprised to get was a broader sense of where I fit in the world and where my own ideas fit in, to look at social change and social justice."
~ Wendy H.
Bellingham, Washington
"It's really been an opportunity for me to fully step into my power in the world. It gives me tools to understand whats going on inside of me and to relate it in ways that other people can understand and work with."
~ Jenny G.
Seattle, Washington
[/note]
And now 18 revolutionaries go forth with deeper integration of tools, mindsets and connections that can make a difference in every relationship in their lives.
Get your own Blackbelt Communication Skills free training videos!
Tally ho!