OUR VISION
We help you develop skills and resources to get you where you want to go, as an individual, community member, leader, and Changemaker. Our programs serve people like you who want to make a positive difference in the world AND who also recognize that you need to be learning and constantly developing yourself: your mindsets, your belief systems, your skills and your capacity.
Our educational programs, coaching and support are designed to help you realize your dreams and desires for the most epic life you could imagine for yourself, while making a significant positive impact.
We stand at your side, cheering for you, "Yes! Go! Do!"
And we also stand beside you, whispering in your ear, "Pause! Listen! Connect!"
Our highly-valued live events, e-learning programs and one-on-one coaching have our team in demand on five continents.
We like to think of Cascadia Workshops as a series of concentric rings that include our core team, clients, volunteers, contracted helpers, mentors and our extended tribe. It is highly likely that you reside within those rings. 
We like hearing from you and getting feedback on how we can do what we do, better. Please feel free to contact us!
OUR TEAM

Alan Seid
Founder, Vision Conduit and Chief Floor Sweeper
Favorites:
Frank Zappa
Disc golf
Playing drum kit in unconventional time signatures
Contributing to my neighbors and community
Supporting people to be the most powerful change agents they can be
Surfacing dissenting views constructively in groups
Play, humor, trust, and integrity
Alan's Story
I grew up bilingual, bicultural in Mexico City, Mexico.
At 16 (1987) I decided to be part of the solution rather than the problem, and to discover or create best practices for living in harmony within ourselves, with each other, and with our home planet
At 18, I realized that my life needed to be about service and contribution, and that that would probably look different than traditional employment.
At 21 I began following the steps in the Financial Integrity Program detailed in Your Money or Your Life by Vicki Robin & Joe Dominguez, which taught me how to be very clear and empowered in relation to money.
By 27 I had enough savings to — while living simply — embark on a seven-year self-directed period of intensive research and learning.
It was during this time that I:
• became a Certified Trainer in Nonviolent Communication
• acquired my Certificate in Permaculture Design
• took many classes with Wilderness Awareness School
• participated in several 10-day silent meditation courses
• researched and visited intentional communities and learning centers
• studied Dynamic Facilitation and conflict resolution
• was given permission by Jon Young to teach the 8-Shields Model
• immersed myself in Integral Theory, including a 6-day Integral Ecology and Sustainability Seminar
• conducted a search for our dream property, which we bought in 2002, in order to live in community, closer to the natural world, and have a base from which to share everything I had learned
• served in various volunteer leadership positions, gaining valuable skills along the way.
Since then my passion has been to work with people and organizations who are committed not only to their own growth and development, but also to leaving the world a better place than they found it.
Certified Trainer at the Center for Nonviolent Communication since 2003
Seminar Leader at New Road Map Foundation since 1994
Board President at New Road Map Foundation from 2006-2009
National Team Member and Local Director at Sustainable Global Leadership Alliance (SGLA), 2007 – 2008
Certificate in Permaculture Design, Bullock Brothers Farm, Orcas Island, WA, USA, 1999
Training and Education:
Wilderness Awareness School, including Coyote Mentoring, Art of Mentoring, and Mind of Mentoring
Dispute Resolution Center, 60+ hours of training
4-Day Intensive offered by Jim Rough and Dynamic Facilitation Associates
Outward Bound, participant and volunteer
School for Field Studies, Sustainable Development in Costa Rica (College Semester)
Denison University, self-designed major in Whole Systems Sustainability ("Eco-Studies")
Kari Hardin
Executive Assistant, Jane of  All Trades
Favorites:
My family
Birds
Cooking for friends
Smart conversations
Humor
Art
Intense board-games
Reading things that make me weep
Being a student
The-out-of-doors
Water
Kari's Story:
I am a tried and true North-Westerner – with bits of the Salish Sea, the Strait of Juan de Fuca and the Olympic Mountains in my blood. Though I call Bellingham home for now, I am originally from Sequim, on the Olympic Peninsula, where I grew up riding horses barefoot, digging clams, fording rivers and stealing cars. I have since grown out of at least one of those habits.
I relocated to Bellingham to finish my undergrad studying the relationship between international migration and global development. After graduation, a chance connection with a mutual friend brought Alan and I together – and my work at Cascadia just keeps growing.
Outside of work, life is full with parenting my now 11 year old son, Cypress; caring for our cat, dog and two alpacas; and learning how to have a life outside of being a full time student.
Education:
B.A., W.W.U – Fairhaven College of Interdisciplinary Studies
Degree Title: "Symptomatic Migration: Patterns of Development and Diaspora"
A.A., North Seattle Community College
Jay Darling
Operations Director, Right-Hand Man and Head Jester
Favorites: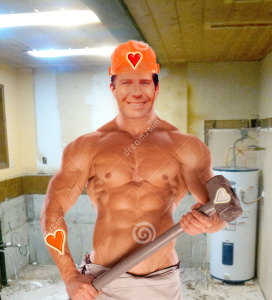 My children
Playing music with friends
Dancing and moving my body in big ways
Creative reuse and D.I.Y. inspiration
Getting outside to hike, swim and get dirty
Patterns and the beauty of nature
Making things pretty on a screen
Hugs
Breathing
Smoothies
Jay's Story
I grew up in Western Washington, blessed with a family who loved me and supported me in becoming a change agent. Unfortunately for them, my parents don't receive the benefit of a first-born son who buys them fancy stuff and takes them on tropical vacations. They seem to be okay with that because at least they got a couple grandkids out of the deal.
Growing up, I was on a course to be a visual artist or graphic designer until I learned in university about our distressed systems of soil, water, ecology and the woes of our agricultural systems. So I changed course to become an educator instead with university, high school and elementary environmental service projects. My parents always said I should teach. I  worked for a waste reduction and advocacy non-profit organization for many years, RE Sources for Sustainable Communities. Working for that fine organization, my art and design skills braided together with my education skills to create inspiring events, workshops, videos and marketing materials to help promote sales and services for the org. I developed their recycled art program, producing an annual recycled art show with gallery partners and resplendent trash fashion shows that would blow people's minds with the possibilities of reclaimed materials hung on beautiful bodies of all shapes and sizes.
Music is another key part of my life – music is food to me and I love to cook for others. I have recorded on over 15 albums with labels that include Soundings of the Planet and Brimstone Music, performing on stages including the mainstage at the Oregon Country Fair, Trinity Cathedral in Sacramento and Berea College's Phelps Stokes Chapel in Kentucky.
After years of friendship with Alan Seid, he invited me to come aboard Cascadia Workshops, charting a course through the stormy and exciting seas of small business startup. Now I craft and fiddle with words, images, video, admin panels and search engine optimization and whatever else we can do to build Cascadia Workshops into an intergalactic mothership of social change and interpersonal potency.
Training and Education:
B.S., W.W.U. – Huxley College of Environmental Studies
Graduate of Cascadia Workshops' Empowered Communication learning series
Graduate of Frameworks for Inspiring Change Masterclass with Bliss Brown, Founder and President of Imagine Chicago
Infusionsoft University, Basic and Advanced Training
Self-Taught Renaissance Man