Increase your effectiveness and capacity to make a difference.
Do you avoid certain groups or situations because some people there will push your buttons?

Do you want to be more skilled at handling high-emotion situations?

Are you frustrated and discouraged by poor group process?

Do you want to make a bigger difference but interpersonal stuff keeps getting in the way?
If you said YES to any one of these, then you need high-caliber communication skills!
The process taught in this course teaches you how to:
create a higher quality of connection in the relationships that matter to you
consistently create positive outcomes in social change situations
unlock inner conflicts and challenges
resolve any interpersonal conflict in your life
prevent future conflicts and misunderstandings
become closer with those in your life
be a great listener for those in your life
be OK when others freak out – and what to do about it
stop ever being a doormat (this process is not about being "nice"!)
never again give others the power to make you submit or rebel
learn how to say no with freedom and compassionate power to people and situations that do not serve you
learn how to hear the life-serving nugget behind others' blame, criticism, judgments and verbal attacks
learn the how of never taking anything personally again
meet your needs — in a way that is in harmony with others' needs
Class format:
The Deep Basics Home Study Course features a Step-by-Step Guide (PDF) plus 5-CDs-worth of downloadable audio. The audio was recorded during a four-teleseminar-series so you get the benefit of hearing other peoples' live role plays as well as Q&A.
What do people who have taken the class have to say?
Alan's presence is intimate and clear. His examples are personal and inform me both of his humanity and of mine. The PDF is well-organized complete with exercises to hone both vocabulary and empathy both for self and other. I highly recommend this on-line NVC course to both the utter novice and the well-seasoned practitioner.
Laya Shriaberg
This course fosters the sense of learning community despite the fact that it's a home study course. It provides good context and meaningful support to learn NVC and to pursue our inner work.
Marion Dulude
I feel this class is absolutely valuable and have already been telling others about it. We can all benefit from the perspectives gained from this type of class and Alan is a dynamic and engaging presenter who lives what he is teaching. In only the two weeks of this tele-seminar my understanding of myself has deepened and my intimate relationships have benefitted.
Mira Boyda
I would definitely recommend this. It's a great way to get an introduction to the basics of NVC. Your presentation is very clear, and shows a deep understanding of NVC principles and practice. Your teaching style contains a good balance of theory and lots of examples of how NVC can be used in a variety of situations. Works for me.
Karen Fitzgerald
I really benefited from this course and found that this downloadable Home Study Course is a great way for busy professionals to be able to access this important area of NVC which can reduce conflict and enhance working and personal relationships. This is a great introduction to NVC. THe downloadable version makes it not only more understandable but much more accessible. Thank you for the opportunity.
Bevin Horn
This course and NVC help bring awareness to communication and open up the concept and the real possibility of creating win-win situations between people and the world that we live in.
Jaren Hoppe-Leonard
I would definitely recommend this course to others. I would say it is a clear presentation of the underlying concepts of NVC together with well defined tools and practices. I found the presentations articulate, engaging, well designed and highly informative. The combination of the PDF and the audio segments give valuable insight and detailed instructions and exercises. This is a valuable asset in learning NVC.
Mirabai Wahbe
I couldn't think of a better NVC trainer than Alan. He models NVC beautifully in how he delivers the course, and more importantly, how he moves through his own life and interactions with people. I met Alan in a workshop that we were both taking and he stood out to me because he kept asking the most remarkably concise and clear questions. His communication is intentional, warm, and to the point. He's one of those people that I always look forward to talking to because it is so refreshing communicating with someone who is so dialed in, present, and curious! In this course he clearly outlines the principles of NVC using metaphors, entertaining personal anecdotes from his time spent with Marshall Rosenberg, interactive exercises, and a dash of humor. It was a pleasure being introduced to NVC by him and I would recommend this course to anyone who is curious about this highly effective model of communication.
Lani Klaphaak
I think that this Home Study Class is a well thought out way to convey a further understanding and better grasp of NVC. The examples and expansion on the concepts helped me appreciate the fullness and depth of NVC.
Kaye Werner
Alan's presentation of the material is clear, thorough and he uses so many examples that reveal the depth of his skills and integration of NVC and keen ability to share the process.
Bren Hardt
100% MONEY BACK GUARANTEE
If you're not completely satisfied within 30 days, let me know and I'll refund all your money. The course is yours to keep.
So, how much do I need to invest to get this class?
Your total investment is $147. What you get will last a lifetime.
Next steps:
I invite you to act now. The real question is why NOT now?
If you are clear that having these skills will move you forward in your goals, then now is the time!
How much longer do you want to continue without this information?
What is the personal and interpersonal cost of business as usual?
How much could these skills move the dial for you personally and professionally?
This is your time.
If not now, when?
BONUS:
As a BONUS I'm including a 2-DVD set (downloadable) of an intimate, private workshop titled Nonviolent Communication Deep Basics. Value: $197. Yours for FREE when you buy the Home Study Course.
 Only $147
(Note: This program is available as a DOWNLOAD only.)
FAQ:
Q: But it's expensive! Or is it?
 The course itself is $147, AND you get the full-length downloadable 2-DVD set titled Nonviolent Communication Deep Basics (value $197) for FREE.

 If you're not willing to invest in this, I respect that. But it is an investment. Most people wouldn't hesitate if we were talking about their car radiator. But we're talking about the interpersonal relationships in your life!
Q: If I don't like it can I get my $147 back and opt out of the whole thing? Of course. If you are dissatisfied for any reason, just let me know within 30 days of your purchase and I will refund all your money. And you can keep what you downloaded.
Q: Why you, Alan? I've been studying NVC since 1995, mostly with Dr. Rosenberg, but also with many trainers he personally trained. I attended a 10-day intensive followed by 10 days as Dr. Rosenberg's Spanish interpreter in 1999, the same year I was asked by CNVC to become certified as a trainer. I have taught NVC throughout the US as well as in other countries, with clients in the academic, nonprofit, business, and government sectors (not to mention hundreds of individuals and couples). I completed certification in 2003, and am widely recognized as a trainer with a highly developed skill-set.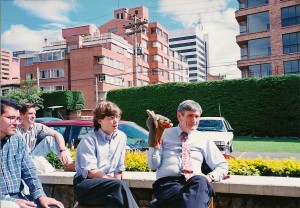 Interpreting for Marshall Rosenberg in Bogota, Colombia (1999)
Check out what some big-name authors have to say about NVC itself:
"NVC provides us with the most effective tools to foster health and relationships.
Tony Robbins, Awaken the Giant Within and Unlimited Power
"These dynamic communication techniques transform potential conflicts into peaceful dialogues."
John Gray, Ph.D., Men are from Mars, Women are from Venus
"I believe the principles and techniques in NVC can literally change the world!"
Jack Canfield, Chicken Soup for the Soul series
"These books are worth their weight in gold."
Jan Hunt, The Natural Child
"NVC gives people a way of listening so others feel not just heard, but understood."
Thomas Gordon, Parent Effectiveness Training
"It would be hard to list all the kinds of people who can benefit from reading these books, because it's really any and all of us."
Michael Nagler, Is There No Other Way?
"Applying the concepts within these books will guide the reader toward fostering more compassion in the world."
Marianne Williamson, A Return to Love
"NVC is one of the most useful things you will ever learn."
William Ury, Getting to Yes
"No matter what issue you're facing, NVC will set you up to win every time."
Deepak Chopra, The Seven Spiritual Laws of Success
What is the personal and professional cost to you of NOT acting now?
(Note: This program is available as a DOWNLOAD only.)
"If I am not for myself, then who will be for me? And if I am only for myself, then what am I? And if not now, when?"
Hillel the Elder
Results Disclaimer:
No program – not even this one – can guarantee any specific results in any given time period (it's actually against the law). There are and will be many factors outside any individual's control, including others' thoughts, feelings, and behaviors. Each individual's background, family history, and psychological makeup is unique. And life circumstances will be unique to each person, place, and moment in time. While faithfully following the steps in this program to learn Nonviolent Communication cannot guarantee a specific outcome, I believe it will greatly increase the likelihood of your creating mutually satisfying relationships, as well as be fun and a great learning opportunity. The purpose of this course is educational only. It does not replace your responsibility to seek professional support when needed.