Full Transcriptions of our Comprehensive Program
Blackbelt Communication Skills Complete Training Transcription Pack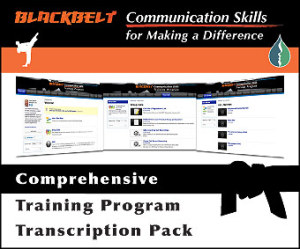 Learn the 4 ways to interpret any message
Realize deep distinctions between requests vs demands
Gain key tools to resolve internal conflicts and get to know yourself more compassionately
Develop potent practices around gratitude and appreciation
All of the information from over 50 different video training videos in a 174-page PDF that shares the best of Alan Seid's 20 years of studying effective and compassionate Nonviolent Communication.
Get the full transcriptions of the Blackbelt Communication Skills Online Program.
Get details.
for $77

Only available as a download.
Compassionate Communication Deep Dive
Nonviolent Communication Skills – Deep Basics Training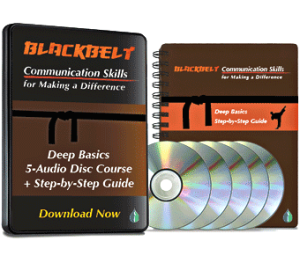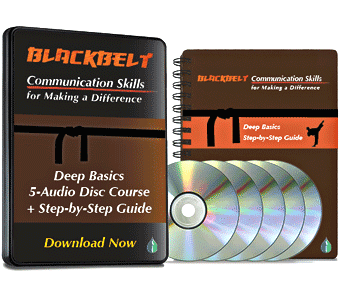 Learn crucial skills, mindsets and much more with Alan Seid's compelling style and engaging examples:
Prevent and resolve misunderstandings and conflicts
Get your intentions heard clearly by others
Create mutual understanding without coercion
5 CDs'-worth of audio and 99-page PDF that breaks down the Nonviolent Communication™ curriculum into 9 "steps" – available as a downloadable product at this time
Get Nonviolent Communication Deep Basics today. 
Learn more.
Only $147


Only available as a download.
!
!
!
Huge Amount of Inspiration for One Low Price
A Path With Heart: Telesummit on NVC and Social Change – Recordings and Transcriptions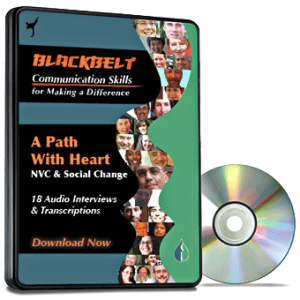 Discover leading-edge social change work that is truly creating a difference

Hear in-depth interviews with some of the world's best-known Nonviolent Communication trainers

Get inspired with stories, tools and resources
We've brought together an amazing team of teachers and leaders who reveal valuable practical social change applications of Nonviolent Communication including Robert Gonzales, Miki Kashtan, Dominic Barter, Rabbi Michael Lerner and over 20 others.
Learn more on our A Path With Heart sister website
Get the full recordings and transcriptions of A Path With Heart: NVC & Social Change Telesummit
Get details.
for $30

Only available as a download.
High Value for One Low Payment
Blackbelt Communication Skills: A Nonviolent Communication Introduction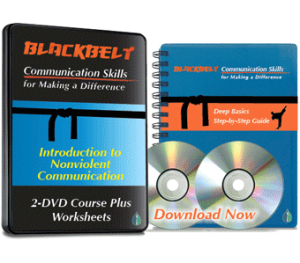 Get new and powerful results from your communication with the Nonviolent Communication framework:
Create powerful connections with others
Tell your truth and have it received well
Cultivate compassionate listening
Understand crucial distinctions between requests and demands
Discover deeper connection with yourself through acceptance, curiosity and compassion
2 DVDs worth of video with worksheets – only available as a downloadable product at this time
Available as digital download

Musical Metaphors of the Heart for Families
Giraffe Tales Audio CD by Kathleen Macferran
"How Giraffes Found Their Hearts" and "How Giraffes Got Their Ears" are stories interwoven in a rich musical landscape and narrated by enchanting voices. These teachings about the why and how of Nonviolent Communication are perfect for children and adults learning about the emotion and heart that surrounds feelings and needs. Available now as an audio download or in CD format.
Composed and directed by Kathleen Macferran, Music Director and Founder of Rainier Chamber Winds and CNVC Certified Trainer.
CD: $16.00 includes shipping (US only)
Audio Download: $10.00
(Available formats: m4a, wav, mp3, wma)
*After transaction, please wait 5 sec. or click redirect
link to see a Audio Download page.
Nonviolent Communication Games
GROK CARDS, Activities and Books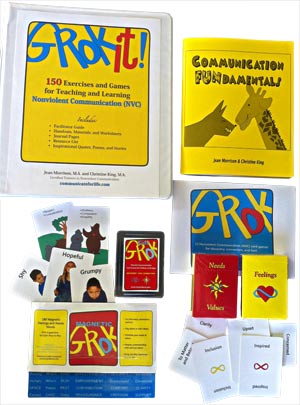 GROK the World games and materials support people around the world to:
better understand each other

connect more easily

speak more honestly

listen compassionately

foster goodwill
Go as deep as you want or just play with GROK products. Different books, games and activities invite meaningful conversations as well as playful interactions for individuals, couples, families, and business or organizational groups. These engaging games and tools include:
GROK all the details on the GROK affiliate website


Create a Relationship with Money that is Clear, Empowered,
and Non-stressful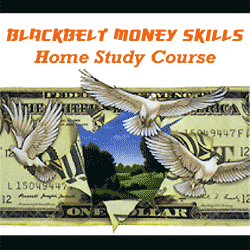 This course is for you if you want to create a relationship with money that is:
Clear

Empowered

Non-stressful

Playing a purposeful role in the life you want to lead, rather than life being about chasing money or avoiding it.
This course includes SIX 1-hr+ Audio Sessions with handouts.
Learn more or
buy Blackbelt Money Skills – Home Study Course
only $295

Step-by-Step Roadmap
for Visioning and Manifesting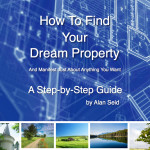 You can easily imagine many things you dream of having in your life. It just seems to be out of your grasp…
Let this step-by-step roadmap guide you in:
strengthening the mindsets that will sustain your efforts over time

developing a detailed vision

finding the actual property or whatever else you are looking for
Discover the 10 practical steps to turn your dreams into reality with tools and tips on:
mindsets for success
brainstorming your vision
categorizing and prioritizing different aspects of what you want
focusing on and holding your vision over time
Get Find Your Dream Property Step-By-Step now and 
download the 2 hour teleseminar and 30-page PDF.
Learn more
$57.00

Only available as a download.
Get the Big Picture for One Low Cost
Integral Awareness and Practice for NVC Practitioners:
Deepening NVC with Ken Wilber's Integral Framework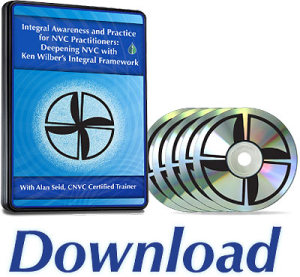 Get your own personal guided tour of the Integral Framework from someone who understands Integral Theory and NVC
Understand how "levels of consciousness" can reduce your frustration and create ease in connecting with other people's perspectives
Gain a framework that puts the incredible variety of disciplines and perspectives into an integrated larger whole
Discover new ways to meet your need for meaning