[ig_blank_divider height_value="40″]
Blackbelt Communication Skills:
Complete Training Transcription Pack
[ig_blank_divider height_value="40″]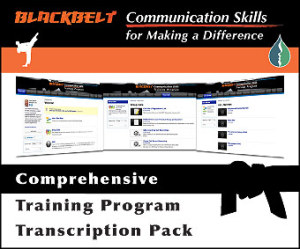 This 174-page PDF has the collected transcriptions from the entire Blackbelt Communication Skills Online Program.
Don't want to enroll in the program, but want the content anyway?
Learn the 4 ways to interpret any message
Realize deep distinctions between requests vs demands
Gain key tools to resolve internal conflicts and get to know yourself more compassionately
Develop potent practices around gratitude and appreciation
This is a compilation of all of the information from over 50 different video training videos that represent the best of Alan Seid's 20 years of studying effective and compassionate Nonviolent Communication, with it's founder, Marshall Rosenberg and many others. A handy table of contents helps you find exactly what you're looking for.

[ig_blank_divider height_value="40″]