August NVC Skill Building Weekend Workshop:
Join me for a weekend skill-building workshop:
Two afternoon sessions, Saturday 20th & Sunday 21st, 1:00pm-4:00pm
$45 suggested tuition for the full workshop. 
No one turned away for lack of funds!
Day 1: We will focus on renewing, refreshing & developing your skills.
Day 2: We will go deeper into developing and expanding new skills.
No Pre-Registration Required: MORE INFORMATION HERE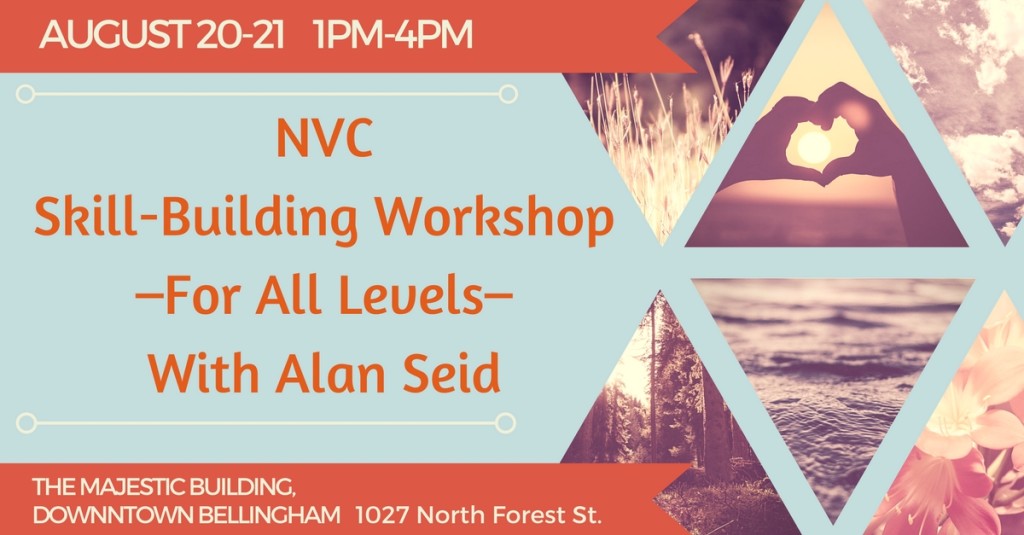 October NVC Weekend Retreat:
Join me October 12-16, 2016 at The Whidbey Institute for a transformative communication skills retreat!
Gain communication skills necessary to create win-win outcomes in any situation. This 4-day intensive training will immerse you in the consciousness, skills and practice of Nonviolent CommunicationTM (NVC), a powerful methodology for interpersonal harmony and effectiveness, and for creating positive social change that includes compassion.
With a powerful focus on positive Social Change, this retreat will amplify your ability to contribute to the world by providing you with crucial communication skills. These tools and mindsets will develop your relationships and internal awareness. You will earn and practice how to connect and transform conversations into productive, efficient and mutually beneficial situations!
Gather with other like-minded people at one of the Pacific Northwest's premier sustainability retreat centers, Whidbey Institute, October 12-16, 2016
Registration Now Open: bit.ly/blackbeltretreat